Workflow management and business process management (BPM) is a tightly integrated feature of infoRouter. The workflow module helps you manage your documents and business processes more effectively than ever.
infoRouter allows you to create complex workflow scenarios to streamline your business processes. Document approvals, reviews, routing documents and many other business processes can be automated and managed using infoRouter. Tasks can be automatically created, tracked and advanced to the next person in line. infoRouter tasks are reminded to users with email notifications and application alerts. Each user in the path of the defined workflow is able to perform a variety of tasks such as:
review and edit document
edit attached documents
add attachments
create ad-hoc tasks for others
and much more before passing the batch to the next person in line.
You can create recurring workflows
You can create ISO review tasks and set a schedule with which a document or a set of documents should be reviewed. The task to perform the review can be an individual or an automatically fired workflow. The workflow can a simple task or a set of complex tasks that run parallel to one another.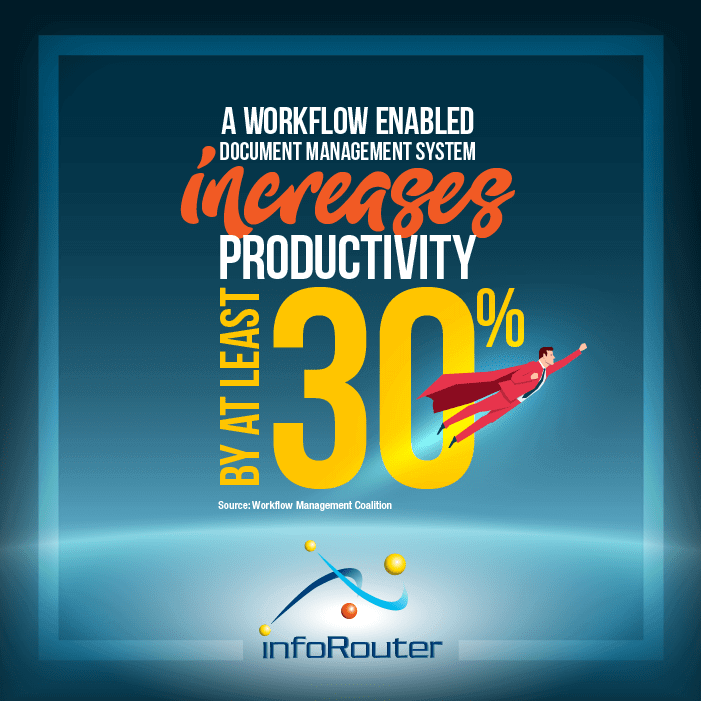 Workflow Management Examples:
Manage procedures subject to ISO Document Control, or
Satisfy regulatory compliance requirements where documents are passed around automatically and reviewed by the defined users until the document is either rejected or approved.
A document is passed around key players or subject matter experts for their review and comments
Strict task requirements where each task must be performed
Flexible workflows where tasks can be re-assigned or ad-hoc tasks are created mid-stream.
Easy to create workflow definitions
The familiar and easy to use interface of infoRouter allows administrators to create robust workflow definitions without any need for special expertise or programming knowledge
Track and Audit assigned tasks
All workflow steps and tasks are closely monitored and recorded for audit purposes. You can access and present the audit logs to the correct parties quickly when, for example, you're faced with an e-discovery case. Users with appropriate access permissions can track these documents and their current workflow statuses.
A reporting module is also present so you can track the status of each workflow down to the task level. You can quickly identify:
Workflow tasks that are stuck
Tasks that are past-due
Work load of different individuals and their performance
Benefits of Business process management
Standardized document and task handling through business process automation.
Standardized document life cycle management.
Proper tracking and auditing of business processes and document handling.
Increased content quality.
Elimination of risks associated with errors and omissions.
Notifications and alerts to ensure proper scheduling and task balancing.
Task escalation to ensure timely processing of job functions.
Streamlining of common business processes for consistent operations.
Resources