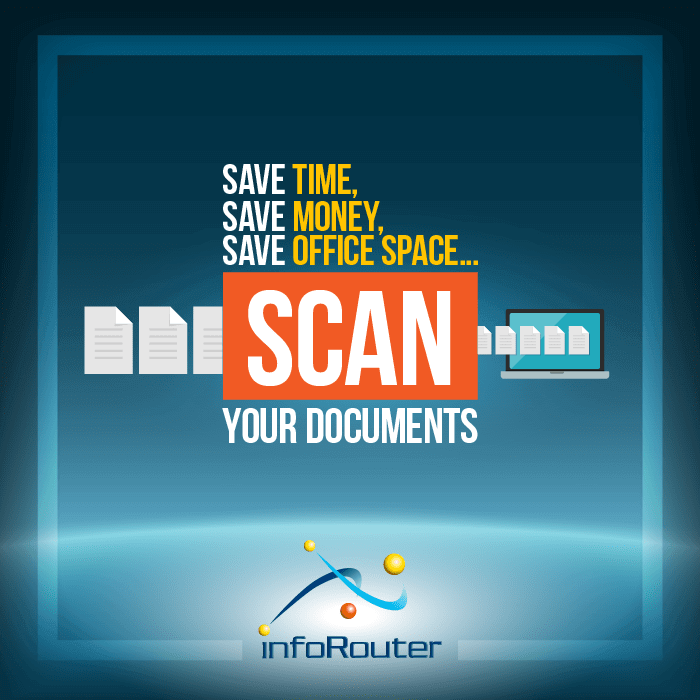 infoRouter offers capture solutions to fit almost any need. infoRouter can natively support any scanned document that has been created by any document scanning tool or software. Scanning paper documents into digital records is the first stop in the effort to the paperless-office dream.
infoRouter offers a few built-in tools to help capture scanned documents so they can be secured, managed and distributed to authorized users. The capture tools we offer are the following:
infoRouter Scan Station
Scan Station is a client-side tool that is used to work a queue of scanned documents. The user can add identifying Meta Data such as invoice numbers, invoice amounts, descriptions and OCR Text. Selected documents cab be submitted to workflows with just a few clicks. Learn more about infoRouter Scan Station by clicking here.
infoRouter Hot Folders
infoRouter Hot Folders is a clever client-side tool that runs as a service to watch file system folders. If you need to pull scanned documents directly into infoRouter without any operator involvement, the Hot Folders tool saves the day. Click here for more information on infoRouter Hot Folders
Click here for more information on Creating and Capturing Documents
Kofax Ascent Capture Release Script
This release script was specifically developed to allow Ascent Capture to push scanned/processed documents directly into infoRouter. OCR text is also automatically sent to infoRouter for content search indexing. For current or future owners of this popular scanning solution, integration into infoRouter will be a snap.
All three applications are provided as a part of the system and are completely free.
Key features of infoRouter Scanning and Capture tools:
Meta Data import
OCR Data import
Works with the infoRouter Web Services API
Can be installed on any machine with connectivity to the infoRouter server including remote clients
Optionally converts TIFF files to PDF
Exception handling to re-process failed documents