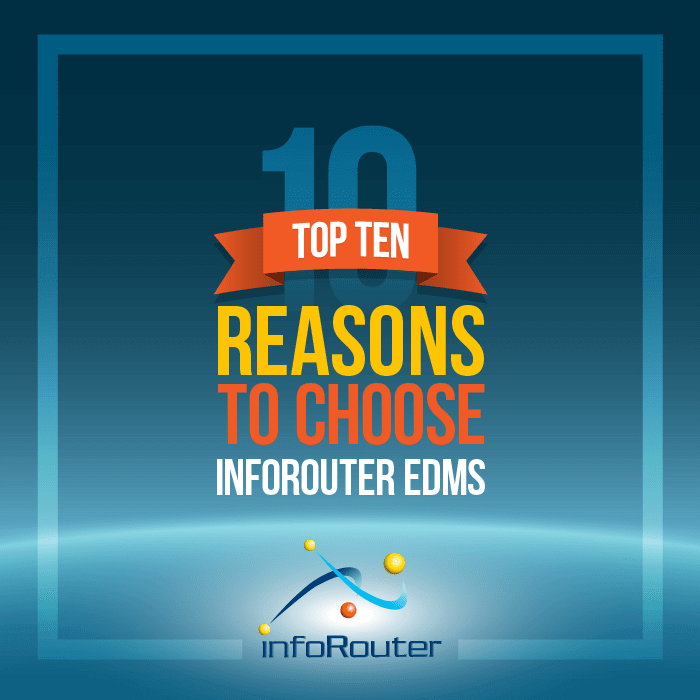 Low Cost of Ownership
infoRouter Document management software is very reasonably priced using a simple easy-to-understand pricing model. It is powerful enough to satisfy the needs of our many large, Fortune 500 clients, yet it remains affordable for small to medium-sized enterprises. To request an automated quote which describes infoRouter pricing and licensing options, please visit our software licensing page.
Rapid Return on Investment (ROI)
infoRouter can easily pay for itself in just a few months.
Please visit the Return on Investment page for detailed information. Make sure to download the infoRouter ROI Calculator (Excel format) to clearly see how much you will be saving by implementing infoRouter.
Easy to use and maintain
Virtually no training is required for new infoRouter users. The familiar interface of infoRouter will quickly become a part of your daily routine. The average Windows user will find infoRouter very familiar and easy to understand.
Instant Deployment
Our customers report that the setup and implementation of infoRouter typically takes only several hours.
After a quick install, you can import your users from Active Directory, import your existing documents and quickly begin managing your documents efficiently. Compare that to the weeks -- and often months -- that it takes to deploy some competitive offerings, and we think you'll agree that infoRouter leads the industry in rapid deployment.
Intranet Out-of-the-Box
Many of our customers find that infoRouter makes an ideal Intranet, right out of the box! Let everyone in the company contribute to the Intranet without having to know any HTML or Web programming. Easily publish all of your company's electronic documents in their native format, with no costly conversions of existing content.
Access your business-critical documents from anywhere, at anytime.
Documents are the lifeblood of an organization. They are absolutely fundamental to the success of your business. Why not centralize these documents and manage them so that they are available to the right people at the right time, from anywhere in the world?
It's simple with infoRouter. All you need is a browser. No other Document Management Software in its class, delivers such functionality.
There is no need for client–side applications or plug-ins. Anyone with a browser – and of course with the proper security authentication – can securely access and manage your precious intellectual assets.
Truly Customizable Enterprise Document Management Software
You can build custom applications or integrate your existing applications into infoRouter by using our Web Services API.
Learn more about the infoRouter Web Services API here.
Get involved in the development of infoRouter
Active Innovations offers a very customer-oriented development approach. We view our customers as true partners, and seek customer input on all product enhancements. We will happily admit that most of our coolest features are the ideas of our customers. Each day, we strive to improve our development methodologies to deliver an even better Document Management platform. Join our Steering Committee and make a difference in what gets implemented in the next version of infoRouter.
Do amazing things. Even the ones you thought were not possible
Using infoRouter, you will be able to offer services to your internal and external customers, vendors, suppliers, and anyone else you need to collaborate with.
You'll be able to instantly provide secure access to important business documents to whomever needs it. You'll even be able to collaboratively manage programs, proposals, projects, contracts and relationships with your internal and external customers. The infoRouter Document Management Software will greatly improve the way you currently manage your documents.
Standards based Technology
infoRouter utilizes technologies that are common to most organizations. Your existing IT staff will be able to manage infoRouter without having to struggle with proprietary solutions.
Visit our Case Studies and Solution page to see a list of usage scenarios of infoRouter and how our customers have benefited from the flexibility and power of infoRouter.